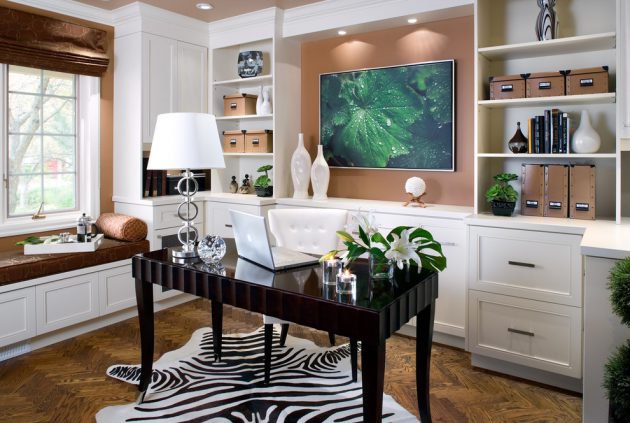 May 11, 2018
Michael Sterling
(Interior) Design Your Way to Success
These days, everyone works on the fly. We wheel and deal on our laptops, phones and tablets in cars, trains, planes – even from home in bed. I found myself hunkered-down with my laptop, propped up by pillows the other evening with a sore neck and back. It was at that moment I realized I was doing more harm than good to my productivity. I need to work in the right environment to be the most productive. We all do. It's important to (interior) design your way to success!
A lot of time and research has been put into workplace environmental design. There are three primary elements to creating an environment conducive to optimum productivity.
Three Key Ways to (Interior) Design Your Way to Success
Space
Too often we're boxed in – stuck in tiny cubicles or attempting to work from a bistro-size table at the coffeehouse. We need ample space suited to the work at-hand as well as a proper chair with good support.
It's also important to divide and conquer – separate and define workspace from personal space. If you find yourself nodding off while working with your laptop in bed or on the couch – that's because your body is accustomed to that space being used for a different purpose.
Establish a work-zone. A place where your brain will be triggered to focus on business. If you work from home in the evenings on the dining table because you don't have a home office, then clear the area of anything dining related. Set the space to be solely focused on business. Keeping workspace in context will boost productivity.
Sound
Think a quiet environment is best for productivity? Nope. Turns out noise is a good thing. Not just any kind of noise. Kids screaming, co-workers bellowing across the room or nearby construction will likely derail your train of thought. However, white noise has been proven to be extremely beneficial. Soundscaping your space with an appropriate level of background music, the sound of fan or an ambient noise machine (rain, waterfall, birds, etc.) has been proved to increase information processing.
Light
The best workspace lighting is more than having a sufficient quantity of light, it's also insuring the quality and type of light. The temperature and intensity of light affects our focus and even mood.
Studies have shown that the three categories of light temperature influence performance and emotion. Warm light creates a sense of comfort. Too much warm light may lead to loss of motivation. Cool white light is more vibrant and promotes alertness. This is best for workspaces and task lighting. Finally, daylight is proved to be the most invigorating. If you need a quick re-charge, take a mental break and head outside to give your brainpower a boost.
When you find yourself struggling to be productive, take a look around. Changing up the interior design of your workspace may make all the difference in your success.
Career Wellness
Interested in more career nutrition? Check out the Career Wellness section of the SterlingFreeman website. 
Seeking a new Public Accounting opportunity? View our full list of premier public accounting positions nationwide. And connect with me on LinkedIn. I welcome your comments.