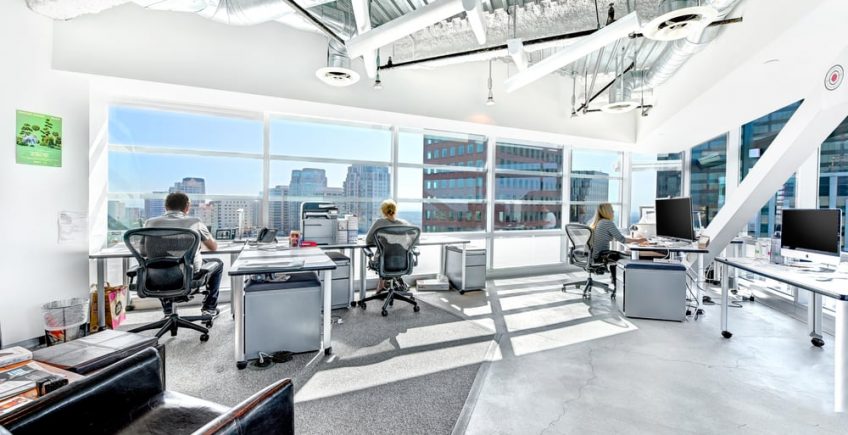 September 30, 2018
Michael Sterling
Shedding Light on A Shocking Way to Attract and Keep Talent
I read an interesting article which shared insight on the impact of daylight on the workplace and thought – bullseye! Natural light is so basic – so natural – that we often overlook it. Daylight is actually a shocking way to attract and keep talent.
If you're thinking – wait, what? Let me explain. A room filled with light brightens people's mood. Realtors know that one of the top house hunter requests is a house with lots of natural light. So, why would we think that job hunters would consider it any less important?
Three Categories of Light
A few months back, I wrote about the importance of interior design for success. Space, Sound and Light are the three elements that impact our work productivity. In that article, I noted that studies have shown the three categories of light influence performance and emotion.
Natural light, and the overall feel and design of an office, does indeed influence someone's feelings about a workplace. It's also been reported that in addition to an open, airy office environment, a workplace with a view is considered a great job perk.
Humans crave natural light and the body physically requires it. Sitting next to or near a window increases productivity. If that window looks out onto a view – even better. The ability to glance up and take in a view, gives a beneficial mental break from working. It allows one to refocus and then dive back into the work at hand. It also reduces eye-strain and headaches.
Not every office can offer walls of windows or a stunning view. If yours can – make use of it. Position desks where natural light floods the area and where employees can see the view. If you've considered windows a distraction, you're wrong. You may actually be hurting mood and motivation.
If you work in a dark or windowless workspace, invest in daylight desk lamps. Minimize or get rid of overhead fluorescents. Within those, above mentioned, three categories of light – blue light dampens mood and creates screen glare. Glare results in headaches. Get up and step outside, or into an area of the building where daylight is abundant.
Light as a Hiring Tool
A well-lit environment is a welcoming space. As a recruiter and career coach, I am very familiar with how tight the talent market is right now. A bright office with a comfortable and inviting feel is guaranteed to make an impression on a candidate. When considering multiple offers, as many candidates do these days, the office space itself plays a significant role. Would you rather work in a dark, cave-like space or a bright, cheery one? The answer is clear.
Career Wellness
Interested in more career nutrition? Check out the Career Wellness section of the SterlingFreeman website.
Seeking a new Public Accounting opportunity? SterlingFreeman recruits exclusively for Public Accounting. View our full list of premier public accounting positions nationwide. And connect with me on LinkedIn.